What is a
MEEWIZ

speed-meeting?

A

MEEWIZ

speed-meeting is a dedicated session within a professional event for face-to-face meetings.

Meetings are arranged based on preferences expressed by participants.

It feels like a speed-dating event with only relevant meetings.
Why
MEEWIZ

disrupts networking events?

Traditional networking gatherings over a coffee or a drink are inefficient to meet the most relevant people.

How to spot and to approach interesting contacts within a bustling crowd?
No more random networking
Choose to meet the most relevant people for you.
Get out of your comfort zone
Meet new people and enlarge your network.
100% distraction-free time
Seating face to face for 15 minutes, you have in-depth quality discussions.
Who can organize a
MEEWIZ

speed-meeting event?

Company, professional association, event agency: add a speed-meeting session to your next seminar or to your next corporate event.
Compatible with any event
Surprise your participants with an innovative speed-meeting session. Only 1 1/2 hours are enough.
Efficient from 15 people
MEEWIZ is suitable for large events and also for small internal gatherings.
A simple and reliable solution
MEEWIZ brings you 10 years experience in speed-meeting. It is simple and it works!
How does a
MEEWIZ

speed-meeting unfolds?
1 - Registration
Participants register online and fill in their profile. You can also upload an Excel file.
2 - Meeting preferences
Each participant prioritize his meeting preferences.
3 - Agenda optimization
Our proprietary algorithm optimize meeting schedules for each participant.
4 - Meetings
It is D-day: a maximum of face-to-face meetings take place.
5 - Follow-up
MEEWIZ
helps you increase the positive outcome of each meeting. You have a complete dashboard of the event.
About
MEEWIZ
MEEWIZ stands for "meeting wizard".
For more than 10 years, our wizards organize speed-meeting events in all sizes: from large international forums (for example in Château de Versailles) to small team-building meetings.
We believe that professional events need to be more interactive.
MEEWIZ is our answer: a turnkey platform to plan and organize speed-meeting events.
Any organizer can now easily improve networking outcome during his events.
Trianon Startups
"In 20 minutes, we have enough time to talk about a concrete cooperation opportunity."
Target: Foster cooperation between large French corporations and Russian startups
More details +
Organizer: Travailler Ensemble / Dialogue de Trianon
Location: Château de Versailles
Date: April 2019
Event type: International B2B meeting
Participants: 45 companies
Duration: One day and 18 meeting slots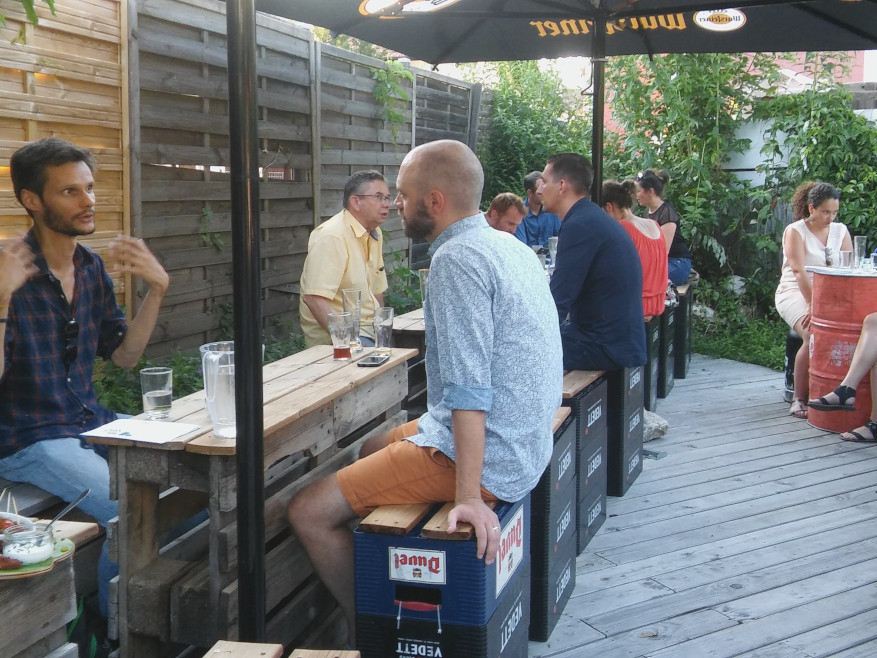 Speed meeting CoAlpin Camp
"Inspiring and humane encounters!"
Target: Share experience between project initiators and seasoned entrepreneurs
More details +
Organizer: La Cordée Annecy
Location: Woodstock Garden, Annecy
Date: July 2019
Event type: Local networking event
Participants: 20 people
Duration: 1 1/2 hour et 4 slots
Sales & Marketing seminar
"Perfect to rediscover colleagues. We addressed topics we have no time for on a daily basis."
More details +
Organizer: an international industrial company
Location: Berlin, Germany
Date: September 2016
Event type: Internal seminar
Participants: 50 people
Duration: 2 hours and 10 slots
Team meeting
"We initiated personal connections among colleagues who normally work in different locations."
Target: Create a team spirit within a team distributed over 3 countries
More details +
Organizer: Somfy South Eastern Europe
Location: Budapest, Hungary
Date: December 2017
Event type: Team building
Participants: 23 people
Duration: 1h10 and 7 slots
Contact us
Company, professional association, event agency: contact us to organize a speed-meeting event!